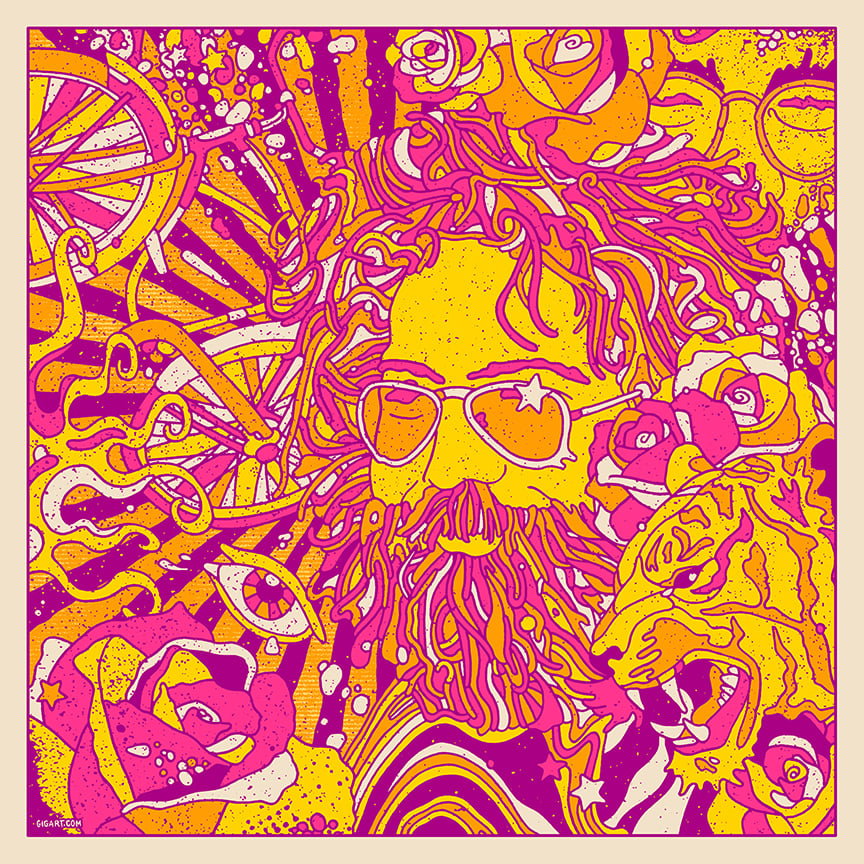 Jerry Garcia Bicycle Day 2019 - Main Print
$

100.00
---
---
18 x 18 inch
4 Color Silk Screen Poster
French Cream Speckletone Paper
Signed Artist Print by Gregg Gordon / GIGART
**ONLY ONE MAIN PRINT PER PERSON**
There are NO MORE Blotter Prints Available.
................
Celebrating Albert Hofmann's wide-eyed ride on this day in 1943 and his "problem child" which unlocked doors of perception and created a spark which greatly inspired Garcia and a generation.
When I was asked to create this Bicycle Day print, I knew that I wanted to make something psychedelic, colorful and strong. I wanted to juxtapose different images that would relate to Jerry, Bicycle Day, and LSD. I illustrated Jerry as the main focal point surrounded by elements such as a bicycle, stripe patterns from his Cats Under The Stars album, the shapes created by the mind bending liquid light shows, a tiger in reference to his main guitar which is celebrating it's 40th anniversary this year, roses and more. One last detail was that I imagined Jerry having an out of body experience on LSD, so I drew him up in the corner watching himself in the moment. - Gregg Gordon / GIGART
Also check out the Foil Variants available in our store.