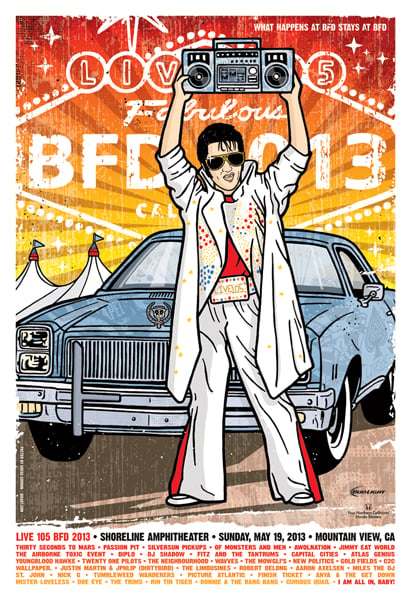 Live 105 BFD 2013 Poster
$

15.00

/ On Sale
---
---
Size: 13 inch x 19 inch
Digital Offset
A few Signed Artist Copies by Gregg Gordon of GIGART available.
This poster was created for the Bay Area Radio Station, Live 105 and their summer concert, BFD 2013.
The bands that played this year were Thirty Seconds To Mars, Passion Pit, Silversun Pickups, Of Monsters And Men, Awolnation, Jimmy Eat World, The Airborne Toxic Event, Diplo, DJ Shadow, Fitz And The Tantrums, Capital Cities, Atlas Genius, Youngblood Hawke, Twenty One Pilots, The Neighbourhood, Wavves, The Mowgli's, New Politics, Gold Fields, C2C, Wallpaper., Justin Martin & JPHLIP (Dirtybird), The Limousines, Robert Delong, Aaron Axelsen, Miles The DJ, St. John, Nick G, Tumbleweed Wanderers, Picture Atlantic, Finish Ticket, Anya & The Get Down, Mister Loveless, Doe Eye, The Trims, Rin Tin Tiger, Bonnie & The Bang Bang, Curious Quail. What happens at BFD stays at BFD.