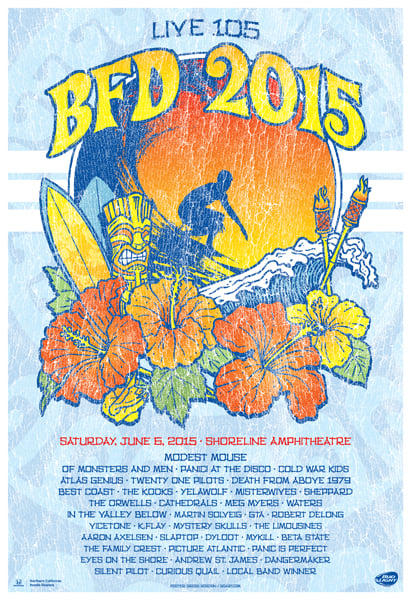 Live 105 BFD 2015 Poster
$

15.00
---
---
Size: 13 x 19 inch
Digital Offset
A few signed Artist Copies by Gregg Gordon of GIGART available.
Poster created for the Bay Area Radio Station, Live 105 and their summer concert, BFD 2015.
The bands that played this year were
Modest Mouse, Of Monsters And Men, Panic! At The Disco, Cold War Kids, Atlas Genius, Twenty One Pilots, Death From Above 1979, Best Coast, The Kooks, Yelawolf, Misterwives, Sheppard, The Orwells, Cathedrals, Meg Myers, Waters, In The Valley Below, Martin Solveig, GTA, Robert Delong, Vicetone, K.Flay, Mystery Skulls, The Limousines, Aaron Axelsen, Slaptop, Dyloot, Mykill, Beta State, The Family Crest, Picture Atlantic, Panic Is Perfect, Eyes On The Shore, Andrew St. James, Dangermaker, Silent Pilot, Curious Quail, and more.